☣
Velvetyne is an association and collective dedicated to researching and disseminating typography and typeface creation. Our efforts manifest through collective creation workshops, public engagements, and the promotion of open, playful tools that embrace an uninhibited approach to typography. Our editorial practice revolves around building a politically and artistically supported typographic universe, collaborating with diverse and engaged authors. Together, we give life to fonts and graphical objects under open licenses, allowing for their use, modification, and redistribution. Additionally, we explore unconventional paths, fostering transparency and inclusivity to make typeface creation more open and dynamic.
Discover more about the individuals driving Velvetyne on our Team page. For insights into our operational methods, licensing, font curation process, and submission guidelines, explore our FAQ page.
Why open-source fonts?
We believe that proprietary fonts aren't always the most suitable tools for certain creative practices, and we think that these original purposes deserve high quality typefaces. We believe that not all graphic or typographic creations should be part of a market economy and and we stand for the freedom to subvert its rules.
We aim to transform Velvetyne into an innovative playground for type projects that might not have significant commercial appeal but exude high poetic, aesthetic, or technical value. We wish to encourage and cultivate these contemporary creations at the margins of the mainstream type scene.
We believe that making type design more open and transparent increases the dynamism of contemporary creation. In that sense, users can continue developing and adapting our fonts according to their own point of view and their particular needs.
We believe that the SIL Open Font License (OFL) serves as a fair foundation for teaching people how to create and distribute fonts. However, we are still seeking to evolve our licensing system, and the current one doesn't entirely meet our needs. Our aim is to democratize typography and type design, making them more accessible to the general public, enabling everyone to comprehend their workings. Please feel free to initiate dialogue with us on these subjects; we eagerly welcome discussions to advance and progress on the licensing matter.
WTF can I do with VTF fonts?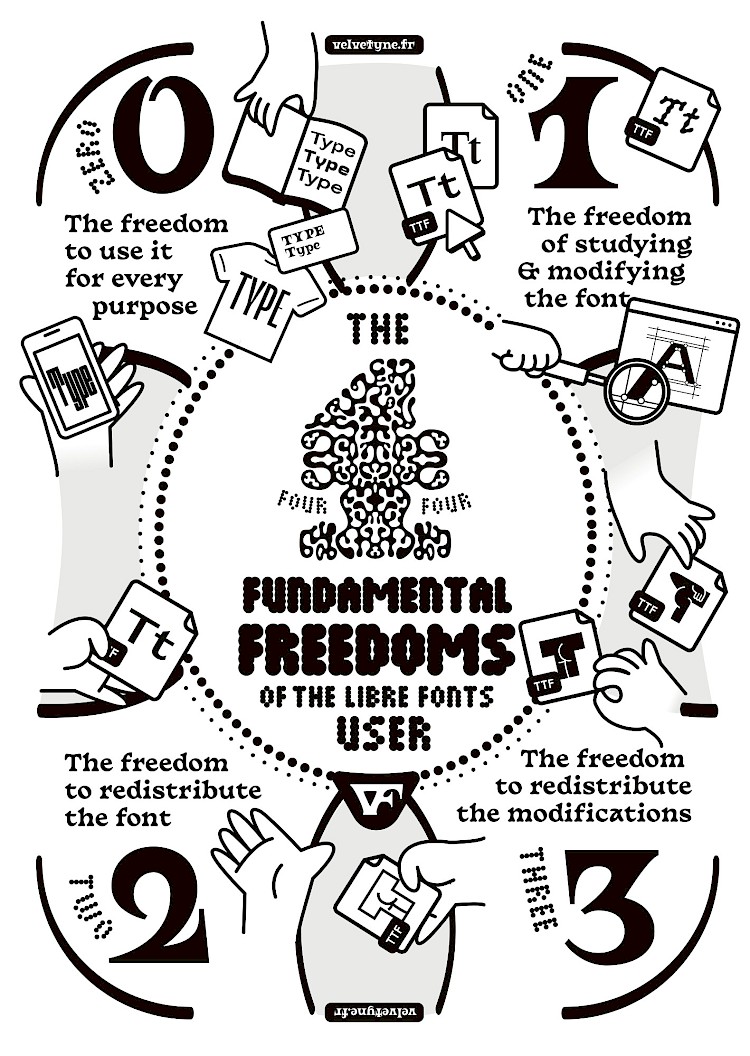 All the fonts hosted on Velvetyne are libre and open-source. This means that you can :
1. use them
2. modify them
3. redistribute them
4. redistribute the modified versions.
These rules are true for all personal and commercial works. Velvetyne fonts can be used on any medium you can imagine: poster, logo, magazine, website, app, t-shirt, music video, bike trailer… Remember that you must credit the name of the type designer and of our foundry whenever you use one of our fonts.
If there's any feature of our fonts that doesn't suit you, you're free to change it in order to fit your tastes or your needs. In this case, you have to redistribute your creation under the same licence of the original font. Please don't hesitate to send us your modified versions of our fonts!

While having many liberties doesn't mean you should use them all. There are humans behind the creation and publication of these fonts, as well as the entire libre open-source movement; they might have concerns about how their work is used. It's probably worth taking this into consideration!
Support and donate
If you like our fonts and our activities, please consider donating to our non-profit organisation. This will allow us to continue distributing new quality, open source fonts and improving our existing catalogue. Visit our donation page.
Let's keep in touch
We're always looking for new fonts and new people. If you want to publish a font with us or join our adventure, drop us a mail: team@velvetyne.fr
About this website
This website was designed and developed by Raphaël Bastide member of the collective, in collaboration with the other members. It runs the great CMS Processwire, and we would like to thank the Processwire community for their help. velvetyne.fr is hosted on the servers of Alwaysdata.
This version of the website has been made to be frugal, both for the client's bandwidth and GPU and for the servers. A balance had to be found between functionality and soberly, and we hope we managed to find it. You can read more about the making of this website in this article.
The font used on this website is called Velvelyne and has been designed and developed by Mariel Nils and Manon Van der Borght, two members of the collective.
☺