Behind TINY

Today in New York pop-up shop opening day.
The TINY font family was originally created at over the summer of 2018 as the visual identity for an experimental retail pop-up shop in Chinatown, New York City called "Today in New York", or TINY for short. The shop was the result of an intern project at Verdes, a creative agency, between Jack Halten Fahnestock and Théïa Flynn. There they sold T-shirts and tote bags customized on the spot with a fancy (and stupid expensive) handheld inkjet printer called a HandJet EBS-250.

Printing a customer's message on a shirt.
Two of the HandJet's default typefaces, 16x10 and 7x5, were recreated into usable fonts for mocking up designs on tees and totes, respectively.

HandJet EBS-250 default typefaces 16x10 and 7x5 recreated as fonts.

T-shirt and tote back side mockup using 16x10 and 7x5, respectively.
5x4, the smallest type size found in the HandJet's software using only 5 of the 16 available print heads, was also made. To take it a bit further and really play up the fun of the end product various widths were created but ultimately only used briefly as they were made last-minute.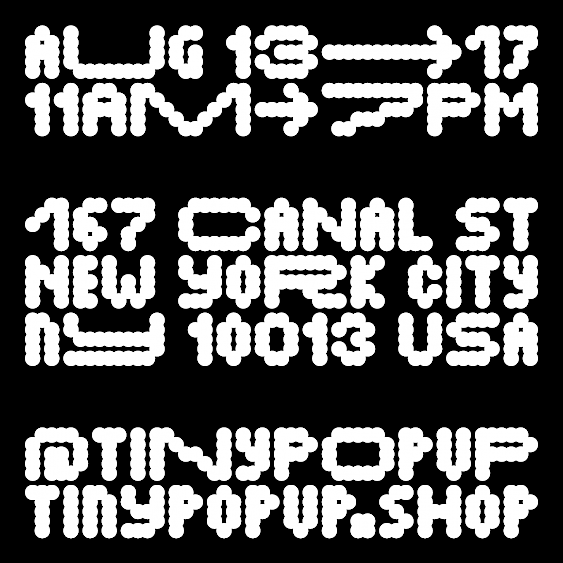 Instagram post showing various widths of 5x4.
TINY 5x3 is just the initial release with a long-term plan to add additional widths up to at least 5x13, and variable axes in future updates. This debut release includes 1300+ glyphs and a variable dot size, which comes from the HandJet's adjustable ink output feature.

Getting carried away w/ excitement and forgetting to adjust the ink level for a thinner fabric.
Stay tuned :)