We will be in Brussels on the 14th of april to attend the launch of a new original type related magazine.
Meet La Perruque, a 1 meter long and 1 centimeter hight sheet of paper. Each issue is a specimen dedicated to a different typeface. These strange formats are leftovers from the printer, the margins of regular documents. The different issues altogether create a portrait of a contemporean type design scene. On the 14th of April, discover the first 4 issues of the magazine and meet Olivier Bertrand, its creator, with the designers of each 4 typefaces : our Raphaël Bastide, Axel Benassis, Justin Bihan, Alex Chavot and Olivier Lebrun as a guest.
Yes, the third issue of La Perruque is dedicated to our Steps Mono, a project initiated by Raphaël and Jean-Baptiste Morizot to demonstrate a collaborative approach in type design. No spoil but it seems that the fourth issue will be about another of our fonts.
Meet us at :
La Perruque — Lancement #1
Thursday avril, the 14th, 2016
6h30 PM

At Atelier Bek
rue du Ruisseau 15
1080 Bruxelles
www.la-perruque.org / Facebook
The vote is closed !
When it was first released, we asked you to vote to choose the next style of Millimetre you would like to see released. You could vote during the launch of the typeface in Paris and online during 2 weeks.
Guess what, the vote is closed and we have the results. The lighter weight is heading at the first place, followed by the black and condensed width. Therefore Jérémy is already designing the light to release it first. The black will follow afterwards.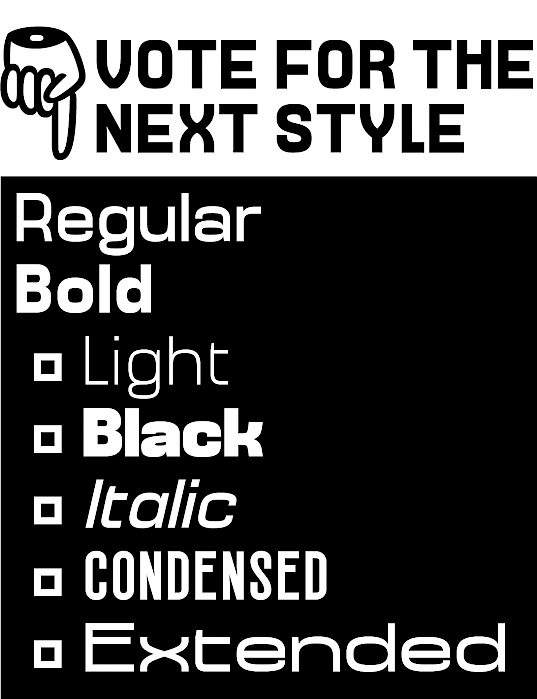 Millimetre is an ongoing open-source project by Jérémy Landes. Decide which style he should design and that you would see released at Velvetyne first: Light, Black, Italics, Condensed of Extended ?